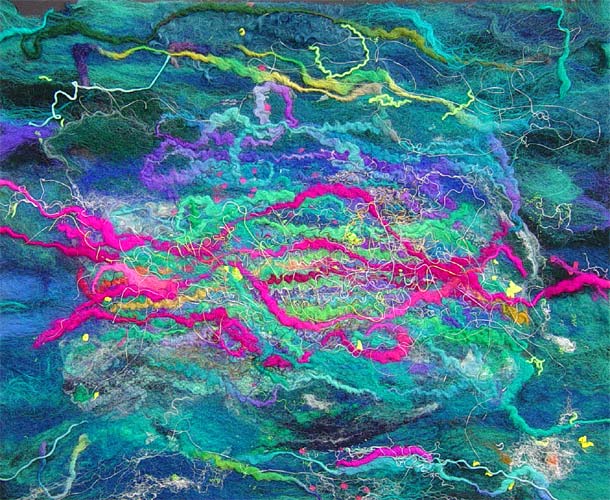 interior design lighting ideas - abstract textile 'art light' by UK textile artist Mary-Clare Buckl
above is an enlargement of the piece with the lights switched off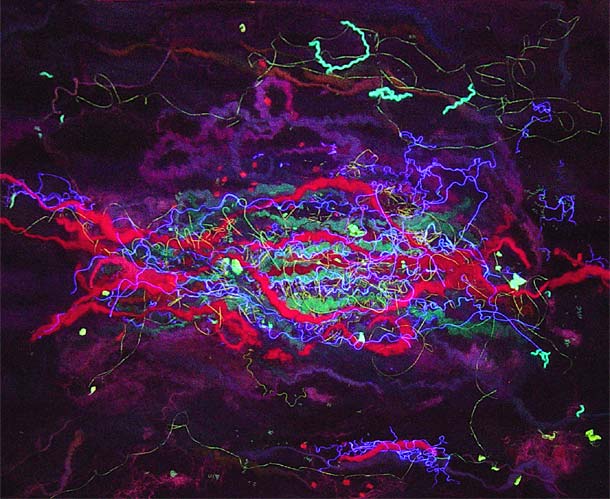 this shows the piece with the 'blacklight' (uv) tubes turned on

Tokelau - Deep Down - size 53 x 45cm - price £590
This is one of a series of pieces inspired by the South Sea islands of Tokelau. Here, I've used uv-reactive wool, threads and fibres and lit the piece on all 4 sides with slim uv tubes hidden in the black acrylic frame so that, when the 'blacklight' tubes are turned on, it creates an intense glow with some of the fibres, whilst making the non-reactive fibres appear almost black - like the gloom deep down in the ocean, punctuated by the fluorescent colours of mysterious deep sea creatures. When the light is turned off, you see a semi-abstract view of the rich colours of tropical islands.
Inspired by the story of Tokelau, I have produced a series of work to capture the romance and beauty of these coral atolls - see the other Tokelau piece on my textile art gallery page.
... or to read a little more information about Tokelau & the Tokelau project, click here.
Click here to go/return to my Textile Art Lights gallery
images & text © Mary-Clare Buckle & Andrew Green
webpage © Andrew Green